The Second Interrogation, 2022, two-channel 4K video (color sound), 24'28"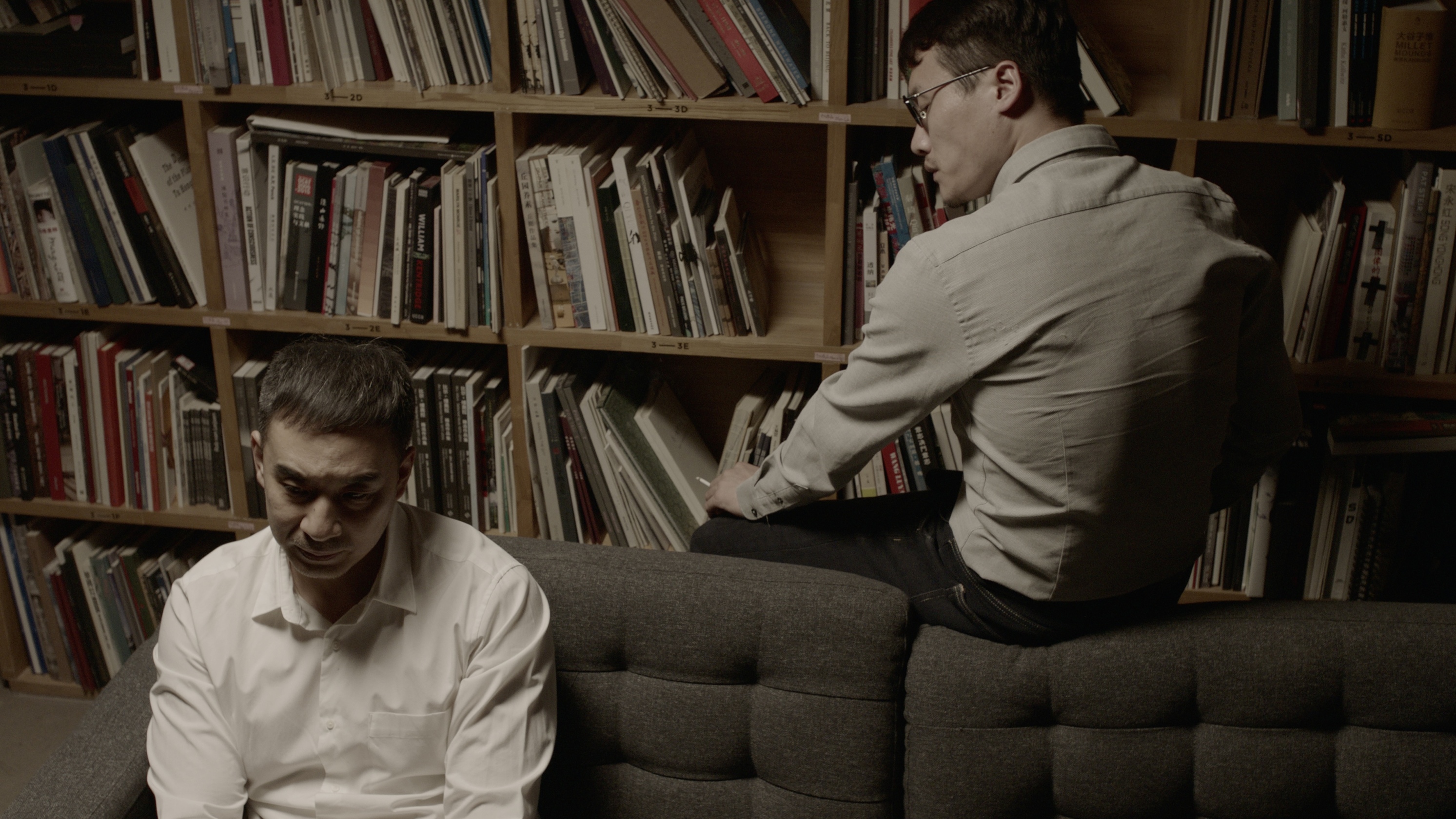 In 2017, Wang Tuo created the video
Interrogation
based on an interview he conducted with a commissioner for Discipline Inspection (CDI) working in a local jurisdiction of China. In the video, the interviewee first describes the psychological techniques he needed when he was taking an interview for his position years ago; his recount then slowly evolves into a description of the psychological methods he has frequently been using in interrogation.
The Second Interrogation
is based on Wang Tuo's observations and reflections on cultural censorship in the art world that he has experienced in China in recent years. In this two-channel video work, he envisions two extreme, yet highly grounded situations where the artist becomes the censor and the censor becomes the artist. In the video, the key to the encounter and eventual transformation of their identities is the reassessment and divergence of the seven astounding performances (known as the "Seven Sins") at the 1989 China/Avant-Garde Exhibition in Beijing, which had faced censorship. Together with the student democracy movement that was about to sweep the country the same year, these radically rebellious works became a turning point in the destiny of contemporary China. Since then, contemporary culture and art have faced harsher censorship and repression, the political reality has started to contract drastically, and the democratic process has been interrupted. The two protagonists with different visions of the Chinese system come to know each other at an exhibition opening talk. After a series of confrontations and personal encounters, their perceptions of their own identities have changed. The artist becomes a covert surveillant examining the ideological problems of the art world for the government; the censor, on the other hand, seems to have grasped the true essence of art in a totalitarian state. During a new live performance that the artist has been preparing for a long time as a tribute to the "Seven Sins," the censor enters and eventually reinvents the work, becoming its actual author. By the end of the video, the two protagonists, who have exchanged identities, engage in a heated debate about the way forward for the country and the enlightening significance of art in social change.
---
Glossary
· Commissioner for Discipline Inspection (CDI) is the internal control institution of the Chinese Communist Party (CCP), tasked with enforcing internal rules and regulations and combating corruption and malfeasance in the party.
· Cultural Censorship Official (CCO) is a government official in charge of censoring content mainly for political reasons, covering all media capable of reaching a wide audience. This includes artworks, television, print media, radio, film, theater, text messaging, instant messaging, video games, literature, and the Internet.